Production is our job; Let us deliver the best quality product to your warehouse on time and under the most suitable conditions for you.
We carefully produce and deliver every product you need, within the quality standards, with special recipes prepared by our R&D staff, approved recipes in our current list or your own recipes.
To analyze the purchasing and production processes in order to ensure the production of the products you need, to minimize the input and manufacturing costs, to follow up all the processes on your behalf, and to report the products you need to deliver to your warehouse with the minimum cost on time.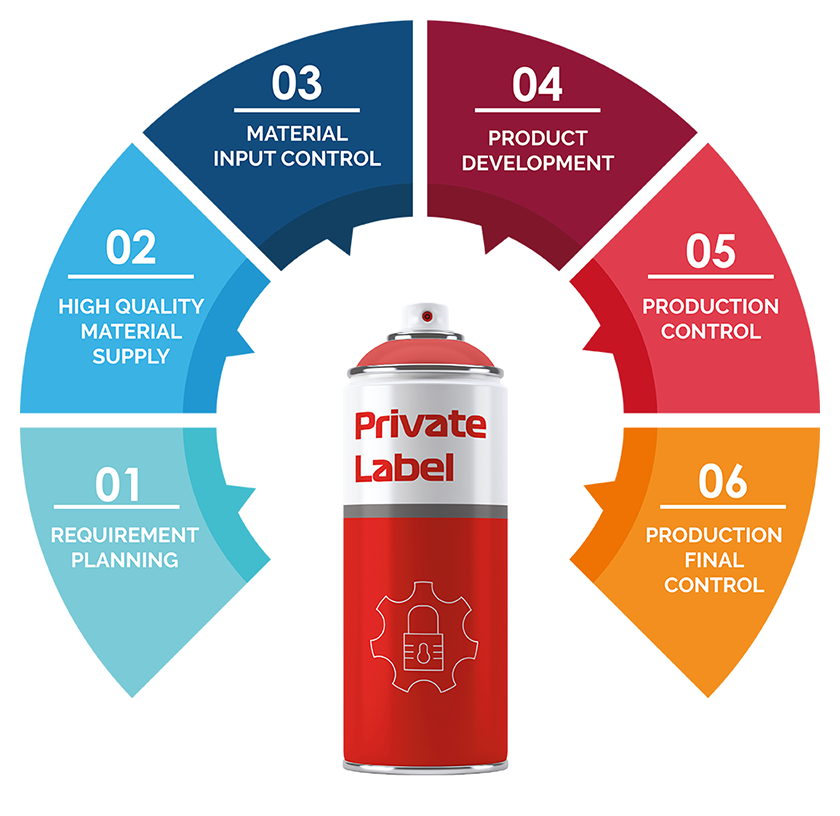 Hygiene Products
Liquid skin and hand sanitizer, hand and skin disinfectant spray, liquid surface disinfectant, household disinfectant spray, hand sanitizer gel, vehicle and air conditioning disinfectant spray etc.
Technical Chemicals and Aerosols
Cleaner sprays, lubricant sprays, mechanics care products, oil and fuel additives, care products, spray dyes etc.
Personal Care Products
Deodorant, roll on and edt, shower gel, shampoo, liquid soap, hair spray, hair mousse, temporary hair colour spray, glitter spray, shine spray, hair gel, shaving foam, shaving gel and aftershave, foot spray etc.
Pest Control Products
Insecticide aerosol for flies and mosquitoes, insecticide aerosol for crawling insects, mouse lethal, Insecticide sprays, pest repellents, repelling body spray etc.
Air Deodorizer and Fresheners
Room odor modifier spray, room odor modifier trigger spray, Air freshener, Automatic air freshener etc.
Shoe Care Products
Suede nubuck care spray, liquid shoe care product, suede nubuck spray, shoe cleaning sponge, water repellent spray, shoe deodorizer etc.
Cleaning Products
Tile cleaning spray, bathroom cleaning spray, carpet cleaning spray, stainless surface cleaning maintenance spray, oven cleaning spray, furniture polish spray, refrigerator cleaning spray, screen cleaning spray, stain remover spray, ironing spray etc.
Other Products
Snow spray, lighter gas refill aerosol spray, products suitable for voc 55, inflammable aerosol products.